03 Jun 2019

AbbVie's US Humira Monopoly: Four Years and $60 Billion of Additional Sales Protection
Introduction
Approximately $60 billion in US Humira sales will remain uncontested over the next four years as intellectual property barriers delay US biosimilar competition until 2023. Meanwhile, outside of the US, biosimilar markets referencing Humira already exist and are demonstrating widespread benefits.
---
Four Additional Years of US Monopoly
AbbVie will experience over four additional years of uncontested Humira (adalimumab) sales in the US compared to European and other markets. Confirmation was signalled through Boehringer Ingelheim's (BI) recent settlement with AbbVie over the entry date of their biosimilar referencing AbbVie's Humira.
Prior to the announcement, BI had been the last remaining holdout determined not to succumb to the same result as eight other Humira biosimilar developers. BI's prospects of a pre-2023 US launch will no longer be realised as they settled on a July 1st, 2023 US entry.
BI becomes the ninth biosimilar developer to settle with AbbVie on a US entry date in 2023, as seen in Table 1.
Table 1: Regulatory status and launch dates of Humira biosimilar developers.



Source: Company reports
In January 2023, Amgen's Humira biosimilar will be the first biosimilar permitted to launch in the US, with all other competitors sequentially thereafter. It's in stark contrast to the European market, where four companies simultaneously launched Humira biosimilars in October 2018 with a fifth following in May 2019.
The below figure details the lengthy delays between FDA approval of Humira biosimilars and settled US market entry dates.
Figure 1: Comparison of FDA approval dates and agreed market entry dates for Humira biosimilar developers.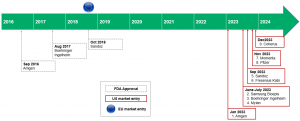 Source: Company reports
Why the Delay?
The delay between US regulatory approval and commercial launch of a biosimilar will last over six years in the most extreme case of Amgen's biosimilar.
As mentioned in a prior biosimilar brief, the reason for this delay is AbbVie's 'patent thicket' comprising 247 US patent applications aimed to restrict biosimilar competition. These 247 US applications for Humira are more than triple the European figure. Many of the patents responsible for extending Humira's monopoly in the US "were either withdrawn, refused during examination, or revoked after patent challenges" in Europe (I-MAK, 2018).
The Consequence
AbbVie has doubled the price of Humira in the US over the last six years. In 2018, the product generated $13.7 billion in US sales alone for AbbVie and is unlikely to slow down any time soon as the company again increased its price by another 6.2% in 2019 in the absence of biosimilar competition. It's estimated Humira will generate roughly $60 billion in revenues for AbbVie in the US alone over the next four years until biosimilars can enter the market and stimulate price competition.
In the meantime, Humira will continue to impose a huge financial burden on a US healthcare system desperate to reduce the cost of drugs such as Humira that are often many times more expensive than the rest of the world.
Europe Realising the Benefits
In 2018, several Humira (adalimumab) biosimilars launched across Europe and have quickly demonstrated widespread benefits. For instance, the UK's National Health Service (NHS) successfully negotiated contracts with multiple biosimilar players to reduce spending by 75% and save £300 million of its current £400 million annual spending on Humira. These savings will enable an additional 11,700 community nurses or 19,800 more breast cancer treatments for patients.
Other European nations are also realising substantial cost savings as a result of biosimilar entry. Humira  biosimilars launched in Germany at a price discount of 40%, in Italy at a 65% discount, and in some countries 80% cheaper than the original Humira price.
If the earliest biosimilar launches in Europe are anything to go by, it's not only greater savings that will be realised from biosimilar entry, but also significant increases in the number of patients receiving treatment.
Conclusion
AbbVie's complex 'patent thicket' will unfortunately delay Humira biosimilars entering the US market until 2023. Outside of the US however, successful biosimilar competition is resulting in huge savings and will likely expand the number of patients able to access these crucial medications.
Contact:  info@neuclone.com